Overview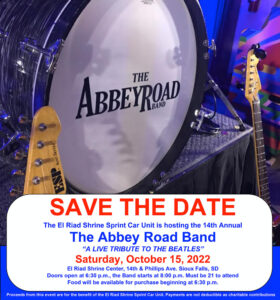 The El Riad Sprint Car unit is hosting The Abbey Road Band live at the El Riad Shrine on Saturday October 15.
Doors open at 6:30pm. Food will be served until gone.
Music Starts at 8:00pm.
Must be 21 to attend.
Reserved tables of 10 are available for $125. Tables can be reserved online at elriad.org/tickets/abbey-road-2022 or by calling 605-777-2183.
General admission tickets are $10 in advance or $12 at the door. General admission tickets can be purchased online at elriad.org/tickets/abbey-road-2022