Overview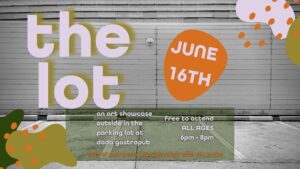 Our first THE LOT art show of summer 2023 is on June 16th!
Stop down for an art showcase out on the parking lot at DaDa Gastropub.
June 16th
6:00pm – 8:00pm
FREE
ALL AGES
DaDa Gastropub is OPEN to the public for food and beverage beginning at 5:00pm.
100% of the earnings that the artists make from selling their personal works will STAY with the artists. DaDa/ICON will take no cut.