Overview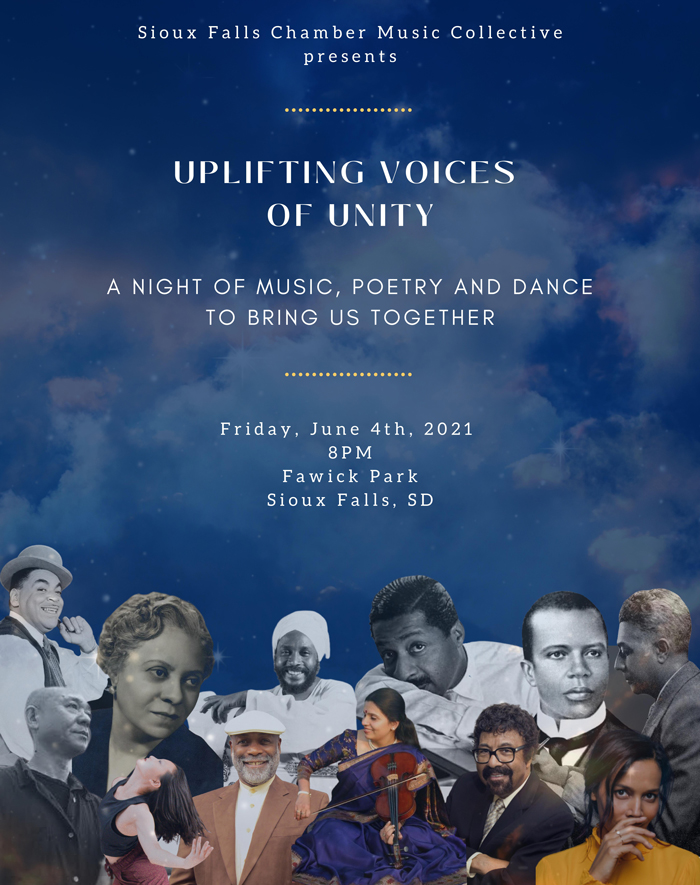 Uplifting Voices Of Unity – Live Performance and Livestream
Uplifting Voices Of Unity is a free outdoor performance to celebrate unity between people through music, dance, and poetry.
It will feature music by African American and Asian American musicians/composers. Several pieces will feature modern dancing inspired by various cultural traditions.
The performance will be augmented by poetry from artist/poet Lawrence Diggs who will also guide the audience through the program.
Choreographer Angelina Gibson and several talented local dancers will animate the musical and poetic performances.
This event is intended to create an inviting, peaceful, fun, and educational experience to foster unity between people. The concept of combining different art forms created by people from different backgrounds and ancestry is an expression of how all people contribute to the colorful, diverse, and robust American culture of which we are all a part.
The performance will be live streamed on YouTube so that people who are impacted by COVID-19 will still be able to join virtually. Click here to go to the Sioux Falls Chamber Music Collective Youtube Channel.
The digital free-will donation box for this event can be found at the ticket link above or the following link: https://www.sfcmcollective.com/support-us.
NOTE:
Please bring a lawn chair to enjoy the performance on this cozy summer evening!
Sound/Video engineer:
Alex Ramirez, USA Media TV
Performers:
Lawrence Diggs, poet & guest artist
Angelina Gibson, choreographer & dancer
Dr. Yi-Chun Lin, program director & violin/piano
Sonja Eiesland, violin
Kelsey Farr, viola
Dr. Sonja Kraus, cello
Dr. Shu Li, piano
Morgan Cazer, dance
Kirtana Krishna Kumar, choreographer/dancer
Jayci Holsing, dance
Music on the program are compositions by the following composers:
Scott Joplin, Erroll Garner, Ma Sicong (馬思聰), Florence Price, Rhiannon Giddens, David Nathaniel Baker Jr., Kala Ramnath, Lawrence Diggs, Clarence Cameron White, Somei Sato, and Fats Waller.
Poster made by Laura Engebretson