Overview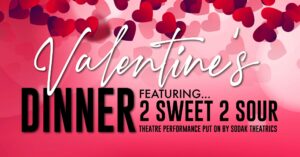 Falls Overlook Cafe is partnering with SoDak Theatrics to bring you a 4 course "Italian" themed dinner + show for TWO nights. Wine & Beer available. RESERVATIONS ONLY.
First Course: Mixed Appetizers
Second Course: Tossed Italian Salad
Third Course: Classic Lasagna, Pesto Tortellini, Chicken Primavera
Fourth Course: Red Velvet Cheesecake
2 Sweet 2 Sour is the second annual "Valentine's Day" charity showcase put on by SoDak Theatrics. All performers are volunteers who have given up their time throughout January and February to put together adult focused skits, live music, choreographed routines, and stand-up comedy. The showcase follows a variety show format – many different scenes, and a wide range of material. Some scripts are recreations or parodies of moments from beloved pop culture touchstones, others are totally original pieces created by community members We showcase performers who have never picked up a microphone in front of a crowd, as well as veterans of the local theatre scene. Our show is about love through all stages of life: the good, the bad, and the ugly. If you're looking for a slightly twisted, intermittently raunchy, tastefully crude take on community theatre this V-Day, SoDak Theatrics and 2 Sweet 2 Sour have you covered – viewer discretion is advised.