Overview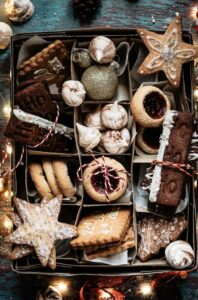 INSTRUCTOR: LIZZIE STEWART
$90 + tax
Chef Lizzie Stewart will be exploring holiday wines and cheeses while educating you on pairings with holiday cookies, who knew? While sipping on your wine you will create your very own show-stopping cookie box to take home for yourself or give as a memorable gift for the holidays. Learn how to style your food while.
Photo courtesy of 'Healthy Little Craving.'
Menu:
Wine
Cheese
Cookies
Plum's Cooking School exists to help you grow as a cook and deepen your love for the culinary arts. Our classes meet you right where you are on your cooking journey. Whether you are a beginner, expert, or simply curious, you'll have the opportunity at Plum's to learn and grow. Classes are taught both demonstration-style and hands-on by chefs and include samples of the food prepared.