Overview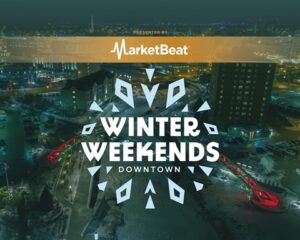 For four weekends, dive into the holiday spirit of Downtown Sioux Falls. Whether you crave the mesmerizing glow of lights, holiday-themed programming for the family or the thrill of ice bumper cars, Winter Weekends presented by MarketBeat brings weekly themes to celebrate the time of year.
Join us at the 10th Street Mural on Fridays from 1:00pm to 5:00pm, Saturdays from 1:00pm to 8:00pm, and Sundays from 1:00pm to 5:00pm. See the full schedule below for details!
What To Expect
Photo Ops: Capture the season at our photo scene featuring bright lights that will bring your holiday spirit alive!
Glice & Ice Bumper Cars: These round colorful tubes have wheels and their own motor which lets you glide around with ease! Their controls are like a video game. Choose to zoom around, smash into other cars in true bumper form, or spin in circles! $10 (adults), $5 (youth/seniors) per 12-minute session. Glice rink provided by the Boys and Girls Club of the Sioux Empire, First PREMIER Bank, and First PREMIER Bankcard.
Food and Drink: Enjoy a festive holiday drink—from beer to a cozy cup of hot cocoa. Food trucks from Black Iris Coffee and Chick-fil-A Empire Place will be available at select times during Winter Weekends. (Must be 21 or older to drink/order alcohol.)
Live Entertainment: Local musicians and performers will provide a festive environment. Programmed by the Washington Pavilion. View entertainment schedule here.
Santa: Mark your calendars and bring your holiday wish list for Mr. and Mrs. Claus from 1 to 5 p.m. Saturday, Dec. 2 and Sunday, Dec. 3!
Full Schedule
Each weekend will feature a special theme and new activities for you and the whole family!
Celebrate Downtown – November 24-26
North Pole Jingle and Mingle – December 1-3
Happy Grinchmas! – December 8-10
Winter Wonderland 20th Anniversary – December 15-17